WE SUPPLY SECOND HAND GENUINE PARTS WITH WARRANTIES FOR EUROPEAN CARS.
GERMAN AUTO PARTS IN MELBOURNE FOR QUALITY USED VEHICLE PARTS
We are proud to state that German Auto Parts opened its doors 20 years ago to answer the increased demand for used vehicle parts and is still going strong today. At present, the demand for these parts is greater than ever before, so we keep addressing this need in an efficient and timely manner. As a family owned company, we provide quality, genuine, second-hand vehicle parts along with warranties for a wide variety of vehicles to customers throughout Melbourne, other parts of Australia and all over the world. Our goal is to offer our customers the highest quality of vehicle parts along with courteous and efficient customer service to fulfil their needs with dignity and respect.
The Brands That German Auto Parts Offers to Our Customers
Our stock varies, so browse through our website or contact us directly to ensure that we have the parts vailable to fulfil your needs. We provide the following brands of used parts:
90 days warranty
Changeover Engine and Gearboxes must be returned

Exchange or Returns:
No exchange and refund on electrical items.

Changeover/Exchange requires INVOICE Number
to be quoted on all return paperwork within 7 days
Payment Method
Payment for goods accepted in Cash, Visa, Mastercard, American Express.

Search Parts Simple & Easier
Looking for perfect used parts? Click this link Use our parts database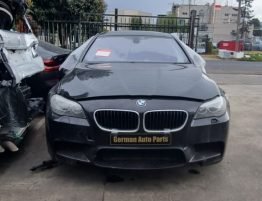 NEW STOCK 12/08/2022 WRECKING 2012 BMW F10 M5 STOCK 732 GERMAN AUTO PARTS 112 MAFFRA…
FREQUENTLY ASKED QUESTIONS
We are welcome any other queries please contact us by email or call
What brands of vehicle do we sell?
We sell parts for Audi, BMW, Mercedes-Benz, Volkswagen, Skoda, Porsche
Which models do we cover?
We sell 4wd and commercial from approximately 2000.
Do we deliver?
If you are in Melbourne metro area we have 5 daily runs to accommodate you Please ask your salesman for the cost associated with your part size, weight, and delivery area We will pack and post, courier or freight anywhere in Australia.
Do we refund items?
We will refund an item under certain circumstances.
If the item is incorrect and our fault, damaged or unavailable, provided we cannot supply the correct item in required condition we will refund
If you change your mind we will not refund.
If you choose the wrong part, we will not refund.
Sometimes we will return parts and keep a credit for you here.
We will not return or refund cut sections Such as Engines, Gearboxes and Electrical items have their own specific warranties on the invoice.